Find Versatile Luxury Vinyl Flooring in Colerain Township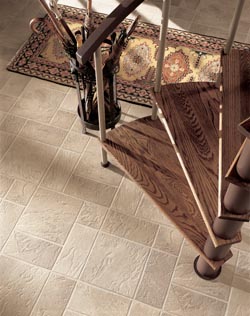 If you're looking to upgrade your flooring, it's in your best interest to make an investment that will hold up beautifully and offer lasting performance throughout the years. Few materials are better suited for active households than vinyl flooring. Regarded by home and business owners as one of the most versatile flooring materials available, this flooring option is designed to serve you faithfully for years to come.
At Buddy's Flooring America, we proudly carry a wide array of luxury vinyl flooring in Colerain Township. Our resilient flooring options offer remarkable appeal and long-term performance. Not only do they perform exceptionally well, even in high-traffic areas, but they also can be made to replicate the look of other desirable flooring materials with stunning realism. Take your interior design to the next level with choices from industry leading names such as Innovia, Resista, and Shaw. Whatever your visual preference, you are sure to find an option that speaks to your design vision when you visit your fully stocked flooring store.


Choose LVT Flooring for Its Impressive Durability
Luxury vinyl tile, also known as LVT flooring easily absorbs the impact of dropped items, moving furniture, and occasional bumps and stumbles from playful children and pets. Since they're made from composite materials, these resilient flooring selections are tough on wear but easy on the feet. Our flooring materials can stand up strong to scrapes and scuffs and keep on going. When you're looking for an ideal flooring choice that offers a unique combination of appeal and strength, our luxury vinyl tile selections are sure to satisfy.
Ensuring your new flooring solution offers enduring beauty and longevity starts with a professional flooring luxury vinyl tile installation. Once you've found the right selection, our seasoned installation crew will ensure it's placed properly in your home. Put your installation needs in our hands of our swift professionals to enjoy your new flooring sooner than you thought possible.


Enjoy the Look of Hardwood in Unconventional Spaces
Authentic wood flooring is highly coveted by homeowners. However, moisture-prone spaces such as bathrooms and kitchens generally aren't well-suited for traditional hardwood flooring. Real hardwood flooring contracts and shrings when exposed to humidity and sudden temperature changes. This sometimes lowers the appeal and functionality of the flooring.
Fortunately, our luxury vinyl plank flooring mimics the charming look of authentic wood flooring with uncanny realism. Made from a high-resolution image of your desired wood species, it's better suited for areas of the home that experience moisture than traditional hardwood. Choosing this material means that spaces traditionally unfit for cherry, mahogany or oak wood floors can adopt an unmistakable look. Best of all, you won't have to worry about how your new materials will fare in their moisture-ridden environment.



Contact our specialists to learn more about our versatile vinyl flooring options. We proudly serve customers in Colerain Township, Hamilton, Harrison, and Bridgetown, Ohio, as well as Lawrenceburg, Indiana.